In the support database you will find many tips and tricks to solve technical problems or certain application situations. The database is constantly updated, interesting questions and answers are published regularly.
Currently, many owners by FritzTrainer multimedia courses are interested in how to watch their purchased products with the new streaming function to play the courses in our video portal. Instructions for this can be found in the CB WIKI at the link below:
http://en.chessbase.com/support-kb/
You can find the home page of our CB WIKI support database under the link
https://de.chessbase.com/support-kb
Alternatively, you can access the CB WIKI on our website under the menu item Support – FAQS.
Different access options are available. The CB WIKI home page displays the most frequent keywords.

By clicking on the ChessBase16 entry lists all articles related to the operation of our database program.
You can search for specific topics using the entry line next to Search.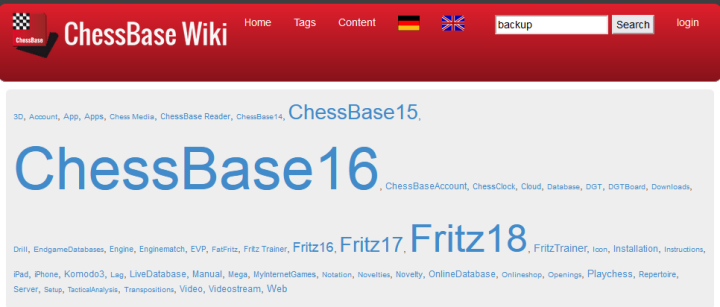 If you want to search the CB WIKI for news about contributions, click on the menu item Contents assistance. Here you will find a list of entries according to the date they were created. You can also reverse the sort criteria by clicking on the "created on" column entry.
Connections