Many construction software options handle specific aspects of a project surprisingly well. Some do a great job of overhauling your document storage process and streamlining everything so you can focus on, you know, building.
Others might keep you up to date with what's happening on the jobsite better than anything else.
But sometimes this poses a problem for construction managers: they have a whole bunch of different software solutions managing different parts of the project, and they pay for each one.
This is where RedTeam comes in. This software solution aims to be an end-to-end solution that will handle all aspects of the construction industry, especially if you work in commercial construction. The goal is to simplify construction management and bring together all the tools you need under one roof.
But is it successful, and is this solution suitable for you? This review will break down the features of the software, what it does well, and whether it will make sense for your business.
Who is RedTeam for?
RedTeam's stated goal is to help construction managers – especially those in the commercial sector – manage all aspects of the construction process, whether working in the field or in the office.
As a result, the software has a wide range of functionality ranging from finance to design to actual project management. Its high price can be expensive for some of the small contractors, so this software generally seems suitable for construction managers of medium and large companies.
However, if you can afford it, the software is comprehensive enough to suit anyone responsible for managing construction projects from start to finish.
RedTeam Features
RedTeam software is an end-to-end solution for commercial construction managers, so it has a lot of features. However, a few of the RedTeam tools stand out as particularly important.
Sales tools
Not all construction management platforms offer sales and marketing tools, but RedTeam does. You will be able to access the "Opportunities" section via the menu on the left side, which will display a list of all opportunities, along with details such as customer, estimated value, status and rating.
Estimate
RedTeam has an estimating feature that centralizes your bidding and quote preparation process. You can send a quote request through the software, and suppliers can respond directly and upload documentation.
And the software keeps a database of estimates and cost codes you can choose from so you don't have to constantly enter the same data over and over again.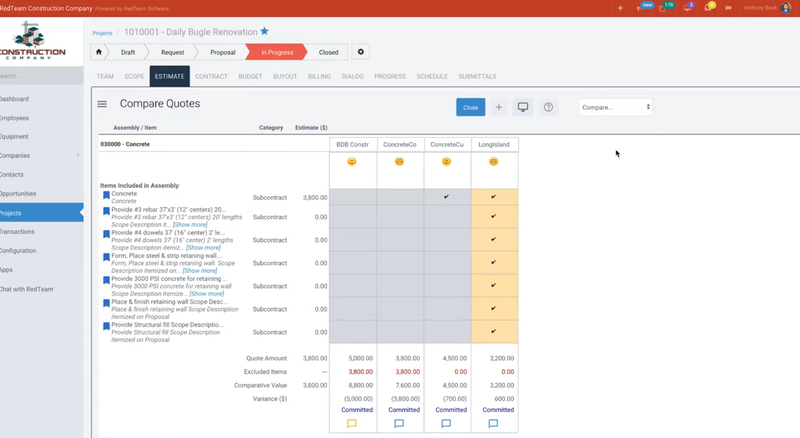 Planning
RedTeam Project Management uses Gantt scheduling in a way it says is similar to Microsoft Project – and, in fact, you can import and export files with Microsoft Project.
The software displays a helpful visual display of tasks and their expected completion versus their current progress. You can switch between the different phrases of the project, from draft to project closure.
Field reports
With the help of RedTeam's FieldShare application, you will be able to create reports and monitor a project in real time. You can share photos and make observations through the app, and employees can log their time through the app. Additionally, FieldShare provides access to all plans and specifications.
finance
RedTeam handles the financial side of the house, handling work-in-progress (WIP) reports, invoices, and cost-plus billing, to name a few. Financial data is updated in real time via WIP reports, and you can validate vendor invoices against factors such as credentials and labor cost.
And the AIA-style invoicing feature lets you dive into the kind of in-depth detail your customers will want.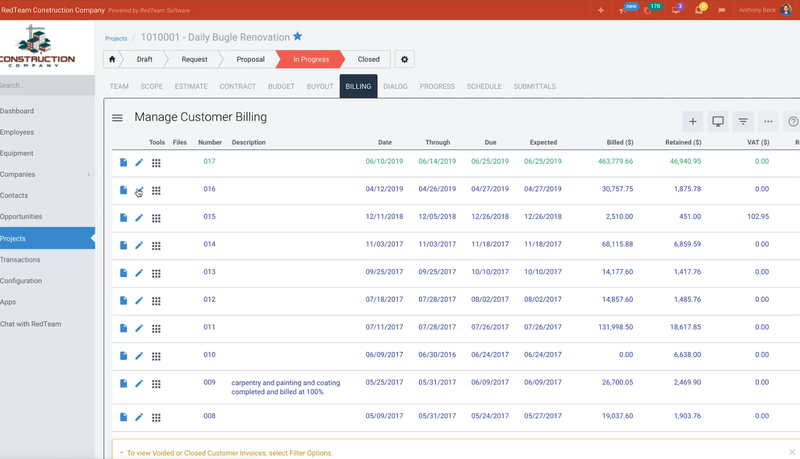 The ease of use of RedTeam
RedTeam's interface is clean and intuitive. There's a menu on the left side that simplifies navigation, letting you switch between the dashboard and gear, contacts, opportunities, projects, deals, apps, and more.
The main dashboard window displays all activities related to your project, such as a progress report that includes photos. It shows who performed the update and the time, so you have a clear view of everything that is happening in your construction project.
Updating it yourself is as simple as typing in the box at the top of the screen, uploading the attachments, then hitting "Share". And you can respond to every update, essentially treating them like messages on a message board.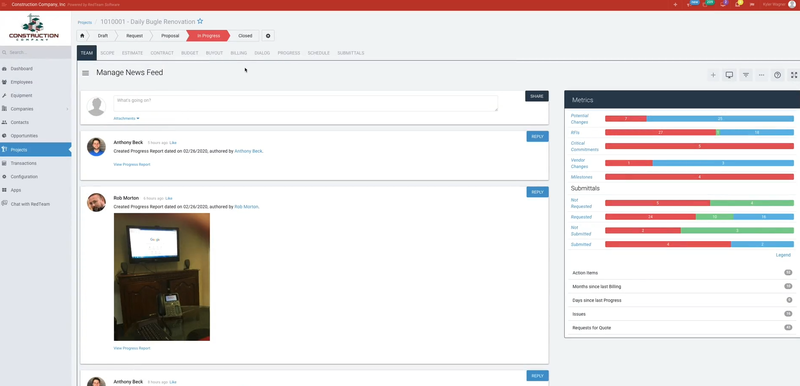 By clicking an icon on the far right, you can drop down a column showing KPIs, such as potential changes, milestones, and submissions. It will also show key financial metrics, like your total sales pipeline.
The employee section not only allows you to keep a list of your employees, but also to track the time recorded. And your gear list includes everything in your inventory along with additional information like status and who it's assigned to.
The business section is divided between vendors, customers, and third parties, so you don't get a confusing mess of organizations that all have different relationships with your business.
It would take some time to go through all of the software's features, but it seems to cover the full gamut of what a construction manager would need – and more importantly, every part is easy to find, with no navigation or confusing clutter.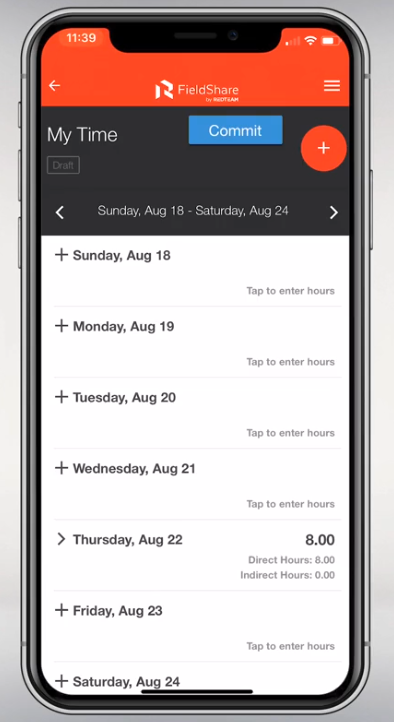 RedTeam Pricing
Make no mistake, RedTeam comes with a bit of sticker shock. That's $4,200 per year for companies managing $3 million or less in actual cash value (ACV). The good news is that it's an all-inclusive plan, so you don't have to worry about having too many users or having to pay for "premium" features.
RedTeam offers a return on investment (ROI) calculator where you enter your organization's details to help you determine what kind of value the software can bring you. You must fill out a form to access it.
RedTeam Support
RedTeam does not allow you to contact the technical support team directly by phone. A call to the phone number listed on their site has a recording asking users to submit a ticket through the software requesting an email or call.
You can also chat live with tech support through the software itself. Or, you can directly email the support staff.
Users have access to the Help Center, where they can access self-help options such as a wiki and video tutorials.
Some users may be put off by the fact that you can't just call customer support at any time, but the ticket system and live chat feature ensure that users will be able to get help if needed.
Benefits of RedTeam
The advantage of RedTeam is that it includes everything a construction manager needs in one place.
While many construction platforms focus on specific tasks such as document management, budgeting and estimating, or design, RedTeam ensures that you won't have to search for other software to complement its capabilities. .
That said, you might find that a more specialized tool will work better than RedTeam for handling paperwork and annotations if you really want to get deeply involved in this, but just want an end-to-end solution with lots of features. so that you don't juggle between different platforms, RedTeam is a solid choice.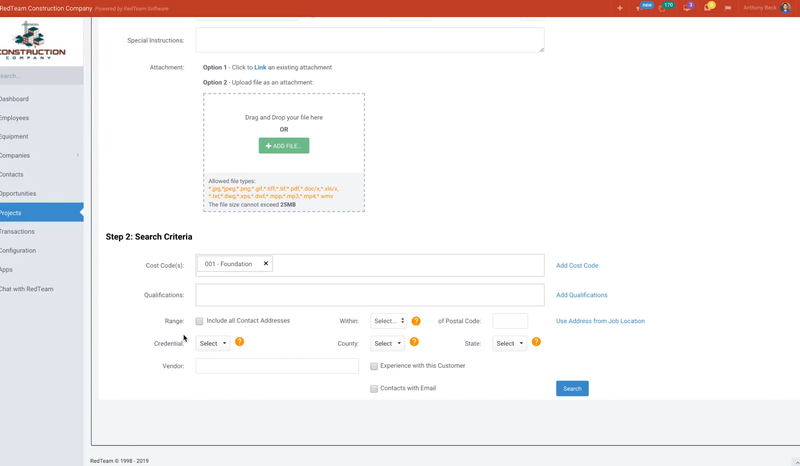 RedTeam Offers Nut Soup Build Management Solution
RedTeam is a simple and comprehensive construction management solution that will help you organize your entire construction operation, from tender to project completion. It's geared towards commercial building, but any business that needs an end-to-end platform will benefit from RedTeam.
It may not be without a hitch – customers from various online sites have raised concerns about integration challenges and the occasional freezing – but it's worth asking for a demo if you need something that handles more aspects of construction than other specialized software.